For some time now, we have been building a community in Samaipata, Bolivia and this is where the Terra Universalis projects come from alongside the community in Germany.
Health Center
To begin, the construction of a healing center for healing purposes is planned with on-site vegetable and herb cultivation, including local medicinal plants and recipes to offer sick people a place where recovery and healing becomes possible.
Indigenous healers should also be provided with this space so that they can apply their traditional healing methods and be made accessible to a wider population.
At the same time, the Healing Center serves as a retreat center to hold retreats (eg. seminars by Uta Wittig – constellation work, Kraft de Stille (Power of Silence), Munay-Ki, www.stille-retreats.de) and to invite national and international speakers.
It is planned to buy a plot or house where patients, course participants or recreation seekers can find accommodation with their own garden and individually adapted diets.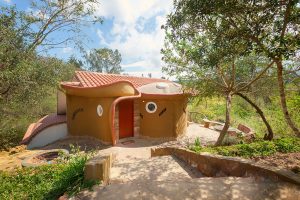 One of the houses designed by Alexandra Stahl –
the houses will be built for Terra Universalis according to this style.
Community and eco-village:
In the near future, an eco-village will be built on an area of several hectares, on which all buildings are to be constructed in a biological manner with clay. The collaboration with the local population is important to us and the villagers are to be integrated into the project. We want to collaborate with organic producers from the area who, like us, are in the heart of harmony with nature and humans. Furthermore, there should also be close cooperation with the Transition Town movement and naturopaths from the area.
Samaipata is located in Bolivia about 200km from Santa Cruz de la Sierra, but by car it is 3-4 hours from the airport in Santa Cruz de la Sierra to Samaipata.

Image of the Amboro National Park at about 1700m altitude.
The climate here is very pleasant – being neither too hot or too cold, nor too dry or too humid.
Samaipata is known for its famous El Fuerte, a pre-Inca fortress and ceremonial site where excavations are still taking place today.
The large village, or town, has many colonial buildings made of clay with tiled roofs, which is rather uncommon in Bolivia. Most buildings have corrugated iron roofs, so the red tile roofs of Samaipata are almost unique in Bolivia.
In the meantime, many new clay buildings have been incorporated into the landscape, which was built by several ecological architects. Since 2015, a Transition Town movement has risen in Samaipata, employing both local residents and foreigners alike. The village, with its diverse multicultural people, is a place that is alive and attracts international artists, as evidence by the many interesting cultural events. The town also homes the alternative school, Comunidad Educativa Flor de Montaña.
Similarly, Samaipata is attractive for visitors with destinations such as Amboro National Park and the famous Condors Nest.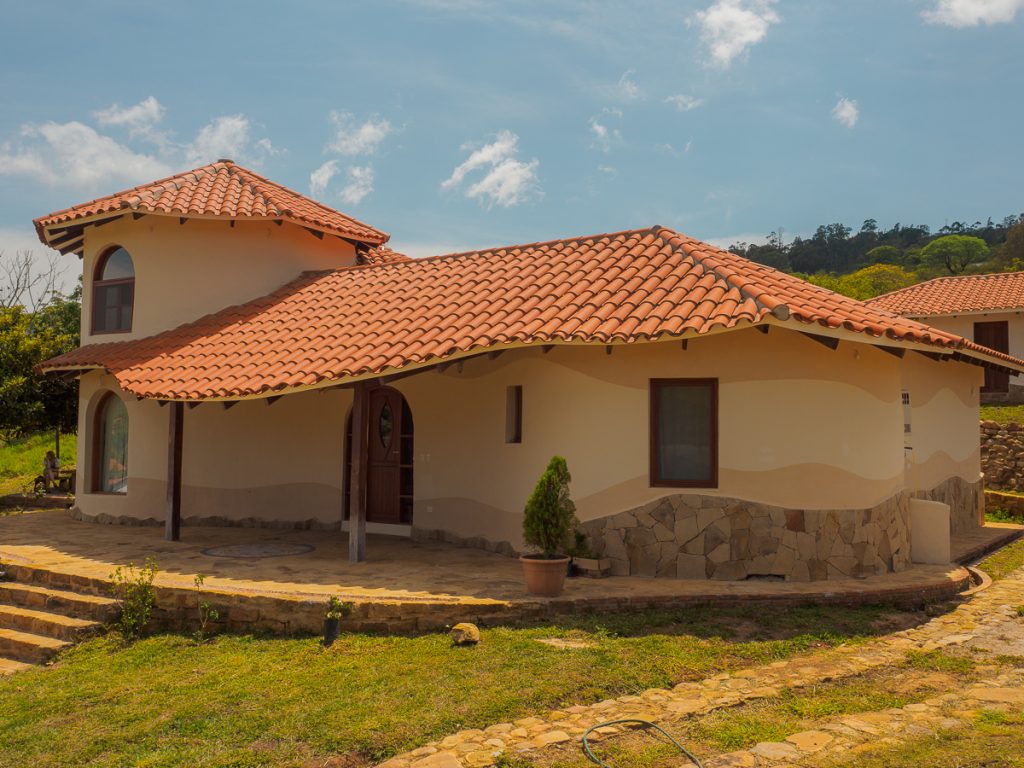 The style of the architect Alexandra Stahl is adaptable to the inhabitant.
Here's another example of what a house might look like.